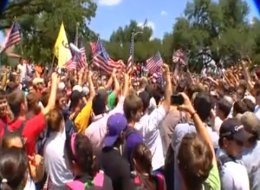 To Ben Haas, Dude! LSU or any college in the South is probably NOT the place you want to go around burning American flags. If you were at Berkley then ok, you can probably get away with it and even have a few more like minded folks to stand with you. But not at LSU.
A the same time the guy in the the uniform is wrong as hell. There are specific regulation
­s that prohibit participat
­ing in a political rallies etc. while in uniform.
Read the Article at HuffingtonPost